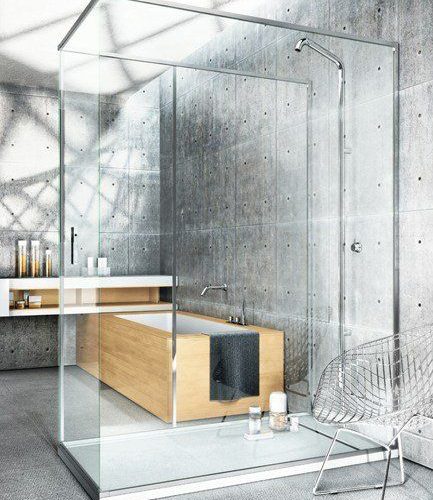 10 STYLISH OPTIONS FOR SHOWER CABIN
If you want to change your bathrooms and prefer shower cubicles that look more modern and stylish instead of bathtubs, listen to these suggestions. Today, shower cubicles are produced in many different models. Whether you are in a modern and clean style, you can choose your own private shower cubicle with classic and simple design.
Pacific Mirror and Glass in Kauai offers many glass shower enclosure options including glass shower doors and frameless shower doors.
1.     Frameless Glass Shower Cabin
Recently, the most preferred and popular shower cabin. It is often preferred in modern bathrooms with its elegant line of frameless and plain glass. Every style fits into the bathroom because it has a simple design. Glass cleaning and maintenance is also very easy. If you want to show a clean and bright shower this is a great way.
2.     Aluminum and Glass Shower Cabin
This shower cabinet, made of glass panels placed in an aluminum frame, creates a more minimalist atmosphere in your bathrooms. This shower cabin, which has a modern and stylish look, guides in different shapes in the style of bathroom.
3.     Glass Block Shower Cabinet
The glass block shower cabin, which is often used in large-area bathrooms, differs from other examples. The door lifts the need from the middle and provides an open shower area. Glass blocks with textured pattern gives your bathroom a clean and cool image. By using different glass blocks and colors, you can adapt to the style of bathroom.
4.     Sliding Door Shower Cabinet
Sliding door shower cubicles are a very practical choice especially for small bathrooms. These shower enclosures, which aim to save space, can be designed to fit every style and space.
5.     Bathtub Cabinet
If you are using a bathtub in the canyon, you should not be limited to the bathroom curtain… Now there are also modern and creative cabin recommendations for bathtubs. Tempered glass is often preferred in the bathrooms due to its durable properties. With a combination of frosted and clear glass you can add a different look to your shower cabin.
6.     Textured Glass Shower Cabin
If you want privacy in the bathrooms, this shower is for you … Textured windows create a warm environment by creating a spa effect in your bathrooms. At the same time small bottles are also successful in showing big.
7.     Shower cabin with multiple entries
There is no rule that there will be entrance from one side to shower cubicles. This shower cabin is extremely modern and stylish, and it succeeds in attracting attention to its room. While the exposed sides create a spacious feel to the room, the frosted glass feature provides a luxurious atmospheric feature.
8.     Non-Shower
Some bathroom designs do not need to be kept. This modern design for these types of bathrooms can keep you in touch with the toilet side, enabling you to make a pass.
9.     Framed Shower Cabin
This shower cabinet, which makes a room feel, can be used in different styles with different decoration recommendations. You can create a shower cubicle with various materials such as brass or chrome plated.
10. Tiles and Glass Shower Cabin
Frameless glass windows show wider the shower cabin when used with tiles. At the same time, it creates a bright shower area by allowing plenty of light to enter inside.