MOROCCAN STYLE DECORATION IDEAS
The Moroccan style decoration reflects the mystic spirit of nature in its timeless, bold, comfortable and unique form in the houses. Warm and so fancy, it is influenced by various cultures such as Africa, Iran and Europe, creating a fascinating and tranquil atmosphere.
The Moroccan style decoration is vivid and different colors are used. Vivid colors such as orange, blue, green, red, purple, yellow, pink are used together with gold and silver tones. And the perfect harmony comes out. Bright colors and patterns create a calming and relaxing effect in Moroccan style compared to other styles. It is normally used to animate the environment in which vibrant colors are present. But the dominance of vibrant colors in Moroccan style gives peace.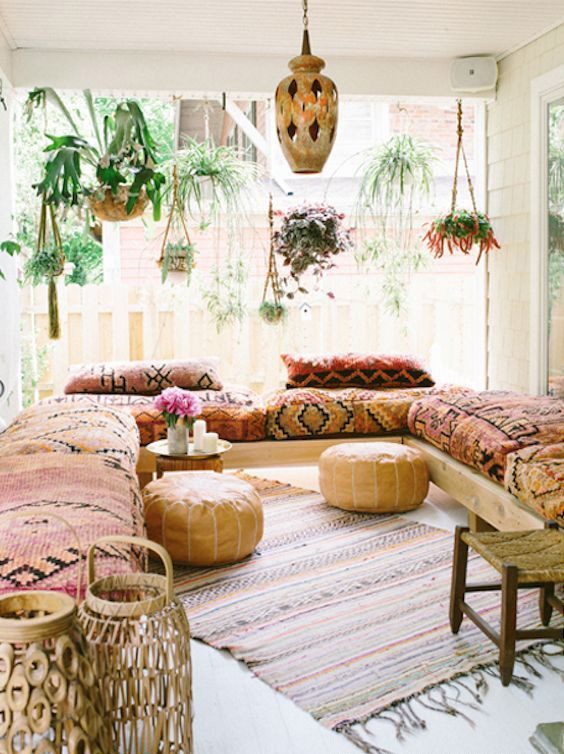 Low tables and puffs, wooden furniture are very used in Moroccan style furniture. The use of rich textures and patterns in furniture reflects Moroccan style and is influential. Embroidered and silk fabrics, colorful patterned, draped fabrics give the decoration a sophisticated and fancy appearance. It is an important accessory of the Moroccan style in the pillows made of expensive and luxurious fabrics.
Tiles and mosaics are a must for walls and flooring. Hand-woven carpets laid on the floors, detailing the decorations of the colored kilims.
Lighting is very important in Moroccan style decorations as it is in every decoration style. The lamps, lamps, lamps are made entirely of handcrafted and colored glass. Also, the use of colored and scented candles is often used in Moroccan style decorations. Those who want to illuminate the premises and create an exotic atmosphere need to be in Moroccan style and do not miss candles in decorations.If you want to create Moroccan style with small touches in your homes, you can use candles, lanterns, hand-woven carpets, copper trays and china in your spaces.