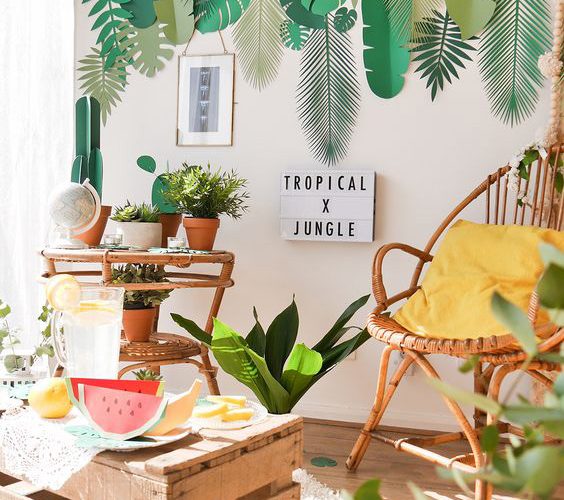 TREND ALARM IN DECORATION: TROPICAL PATTERNS
Designers are inspired by nature when designing their design trends. Especially in the summer season, colorful flowers, animal figures, tropical and fruit patterns are creating natural effects in the decoration. It saves you from the city life for a moment and drifts to the endless beaches. If you want to continue this tropical adventure, take a look at our suggestions.
It would not be tropical without green. When it comes to the tropical climate, the first plant that comes to mind is the palm tree. If you want to create tropical breezes in your environment, you can try it with palm trees. With palm trees, you can create the air of tropical forests at home. Lace pillows, curtains, table covers will help you. You can also catch this effect by growing large leafy potted plants.
Flamingos are living golden age this year. This pattern, which has attracted great interest both in home textiles and decorations, has become the number one inspiration for designers in the spring-summer season. We will continue to see the flamingo, which we often start to see on bedspreads, pillowcases, cups, tables, in later seasons.
Pineapple… The official fruit of tropical climate… We regard it as one of the most popular patterns in the spring-summer season. Where can we use it in a decor? It is possible to see from wallpapers to kitchen utensils, from pillows to curtains. For example, how about covering a wall of your living room with a pineapple wallpaper? It's an idea that will save your home from a monotone view and create a fun corner for you. You can use this pattern in bathroom. You know, that the bathrooms are usually small and cold looking. But you can create a charming and warm bath environment by choosing the pineapple patterned shower curtain.