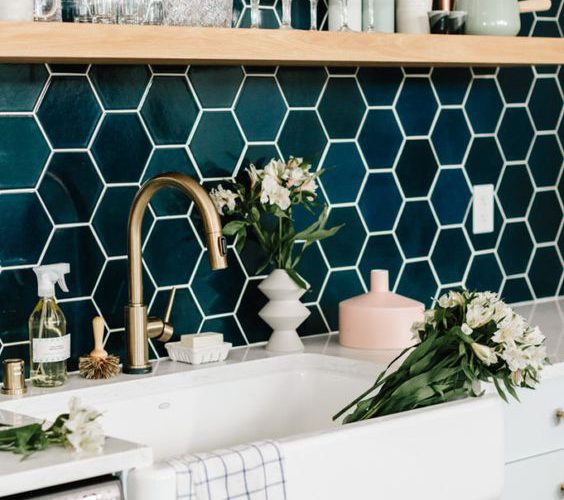 GEO FRENZY IN THE KITCHEN
It is always possible to find fashionable and new ideas to revive the kitchen decor. Even if some trends disappear over time, they can fill up different things. But some of them are timeless. One of them is the geo trend… The hexagonal tiles, which will add a geographical display to modern houses, are a breath of fresh air for both the homeowners and the designers… It seems to be a solid place in the world of decoration as you move forward with sure steps. If you are also looking for a unique start in kitchen decoration, start looking for hexagonal tiles.
You can add a new look to your contemporary kitchens with hexagonal tiles that have a wide range of colors and patterns. Whether on the floor or on the wall, you can easily apply it to both places.
Consider a modern kitchen with wooden floors. But over time, it is similar to other examples and monotonous… Here you can change this uniformity. By combining wood flooring with hexagonal tiles, you can create a visual feast. With the visual contrast of wood and tiles, the most wonderful kitchen is now yours!
You can use your hexagonal tiles in any small, large kitchen upholstery. You can choose big hexagonal and simple designs for small kitchens, and patterned and flashy ones for big kitchens. But courage in design and decoration is good. So if you want to leave an impressive and different mark on your kitchen, take a risk. At this stage, hexagonal tiles will see your work. You can support your modern kitchen with ethnic tiles by filling eyes in the colors and patterns.
You can turn your kitchen walls into a work of art. You can create a brilliant and luminous effect by covering your walls with hexagonal tiles.