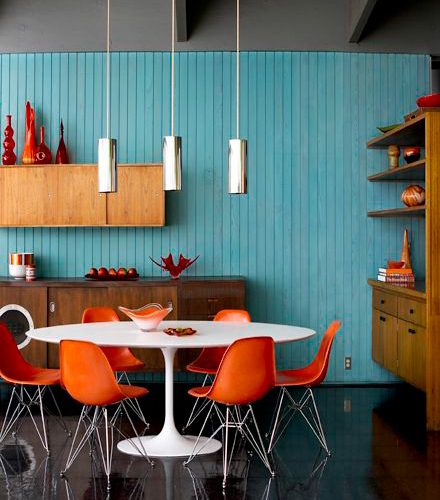 HOW TO CREATE RETRO STYLE IN THE DINING ROOM?
Vivid colors, geometric and floral patterns are the most prominent features of the retro style. The retro style that has been frequently confronted in fashion and decoration over the last few years has been bridging the simplicity and nature of the past and the present crowd. It may be difficult to reconcile the simplicity and functional design principles of the 90s with modernity and technology today. So one of the best places to start retro design and decorating is the dining room. You can bring a different breath to your home with retro-style dining rooms that can be customized daily with modern touches away from ordinary.
Wall and floor upholstery is important for any place that wants to define itself retro. The wallpaper does not only add color to the room, it also activates the space with the patterns on it. In retro style, motif wallpapers and patterns that reflect the period are important details. The same applies to floor coverings. The retro flooring you choose for your dining room, the rugs and the carpets should be in turnable colors and vivid colors.
If you are using a modern and simple dining table, you can create a connection between the two worlds by choosing a colorful buffet. Likewise, you can do this in accessory use. Using objects that remind and reflect that period strengthens the retro style.
You can transform a dining room in a different style, such as a modern, rustic or farmhouse, with a touch of retro style. For example, you can replace your previously used chair with a retro style. At this point, you do not need to change all the decoration and you will have attracted attention to a single point. At the same time you will not be able to renew your dining area with small changes and affect your budget.