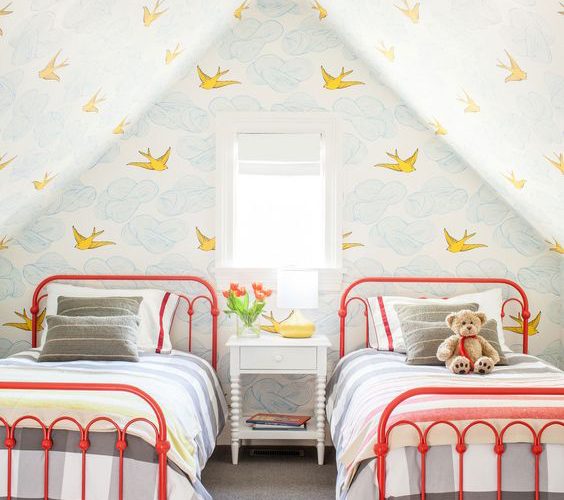 BEDROOM DECORATION FOR TWINS
No doubt the most beautiful rooms are children's rooms in the houses. Children who are fond of freedom are important to have a bedroom where they can enjoy their time. Especially if you have more than one child or have twin children, the room for them should be more attentive. We encourage you to take a look at our suggestions to create a practical and cheerful child room.
 Place his belongings, his favorite toy, and a nightlight put on the nightstand. If you want to save space, you can make a handy solution by placing a dresser between two beds for your twin kids.
If you have a large room in your home for your twin children, you can place a large table in the room to show their abilities. That way, you give them a big space to do their homework or draw things in their dreams.
You can make a room like candy for your twin girls. With pink and sky blue tones, you can arrange an elegant children's room using stylish and cute wallpapers for the walls. You can make it feel that it is special place to them by putting a frame in which the initials of their names are written per bed.
If you have two boys, you can design a stylish room in shades of brown and dark blue. You can complement the room with wooden furniture and accessories, with a modern night light. Visit your local furniture store or simply look online, just make sure the store you choose to work with uses the best Retail Furniture ERP Software Solutions.
How about a special child room for the princesses? With the English style white furniture, you can use pink color to give your girls a room in their dreams. With a white, crystal chandelier, you can bring a naive elegance to the room. You can also create a romantic and warm atmosphere by using powdered pink mosquito net at the top of the bed.