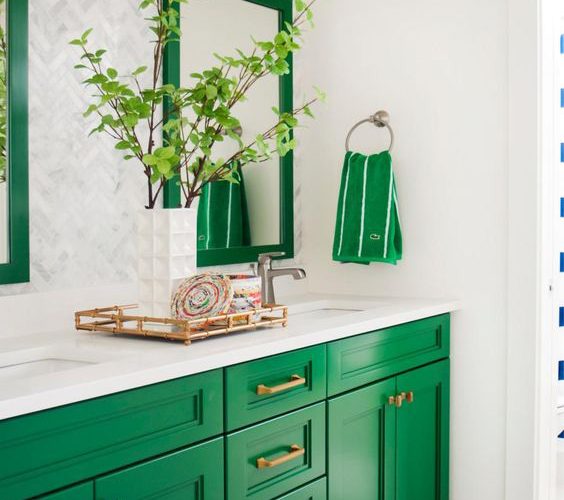 FANTASTIC GREEN BATHROOMS
It is important to choose the interior color preferences. In particular, what color to use in which environment should be determined correctly. The first color that comes to mind in the bathroom is blue. But this color is a thing of the past in bathroom preferences. If you want to style and design an innovative bathroom now, go for different colors.
Green is a color that symbolizes the energetic and freshness that can create wonders in the bathroom. The venue creates a very modern look. You can create a different look by choosing green color in the bathroom.
The wholly white bathrooms have a clean and tidy appearance. But they stay pretty ordinary. You can make a green point of the canyon to ruin this mundane. For example, the part that comes in front of the mirror can be green. You can make the batroom look both interesting and spacious.
If you use plenty of green color in the environment, you will have an innovative bathroom quite easily. Green color is also a relaxing feature. The times you spend at the bathroom will be your most peaceful hours. Bathing in such an area will add extra comfort to you. Even though the areas where the green tones are used are very small, the effects are immediately noticeable. If you are bored of the current color of the bathroom and you are looking for innovation, you should definitely try the green color. The easiest way to color a room or a room is by the walls. You can get a fast result using green color on the bathroom walls.
These shades of green color have become very popular in interior design. Since the bathroom is the first room you use in the morning, starting the day with this positive color will give you energy.