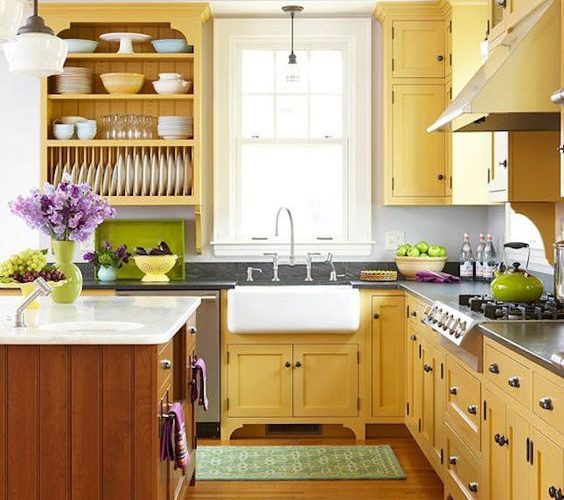 USEFUL COLOR SELECTION IN KITCHEN CABINETS
If you want to save your kitchen from ordinary and animate with vibrant colors. You should start with your kitchen cabinets first. Before choosing colors in kitchen cabinets, you should decide which style your kitchen will be. Retro, modern or classic? Every style has its own dominant color. For this reason, firstly, determining the style of kitchen will make your color choice easier.
The number of colors you can choose for kitchen cabinets is endless. In addition to the main colors such as green, blue, black, white, red, yellow, there is unlimited intermediate color that you can get from color mixtures. After choosing your kitchen style, the color scale you choose will guide you through this.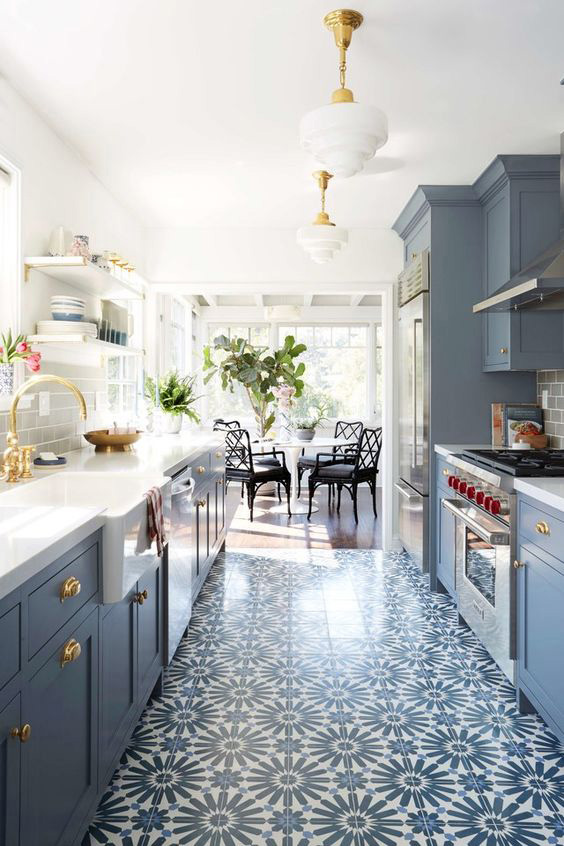 Housewives spend most of their time in the kitchen. For this reason, the choice of color in kitchen cabinets should be done taking into account their needs. If you care about cleanliness, you should prefer kitchens with light colors. Light colors show less dirt and fingerprints. That's why it's easy to clean. Dark-colored kitchen cabinets show more dirt and smudge and are more difficult to clean.
If you have a large kitchen, dark tones are for you… The light colors used in large kitchens can make the kitchen look colder, making the kitchen even bigger. If you have a small kitchen, you can show it big and spacious by using light colors.
Grey
Would you like to create a sophisticated atmosphere in your kitchen? The colors you use in the inner decoration of your kitchen are white, cream or coffee tones; gray kitchen cabinets will add sophistication to your kitchen.
Blue
In the blue color, everyone thinks sea. Who would not want to sit in a house with a sea view? It is nice to wake up to the new sun every day with the peace of mind that the sea adds to our soul… Here you can catch the comfort of the sea, using blue color in the kitchen cupboards. Turquoise, navy blue, blue… You can create an energizing and relaxing environment by creating a kitchen that will bring the sea view to your home.
Orange
The orange color is often seen as a risky color that everyone is afraid to use. But with energy and a dynamic color, these perceptions began to break down. Orange kitchen cabinets; the accessories you use will vary depending on the floor and wall coloring. This characteristic makes it different and attractive. Especially in combination with gray, white or blue, you can add a stylish movement to your kitchen.
White
The most preferred color in kitchen cabinets; timeless who is white. You can easily combine white kitchen cabinets with all kinds of accessories and furniture, and get a great decoration. You should especially try to match white with gray, black and red furniture…
Black
Although black is a color that does not go beyond fashion, it needs some courage to use it. You can support this courage with little details. For example, if you prefer accessories and furniture from red and white colors, you can create a stylish and attractive atmosphere in your kitchen.
Green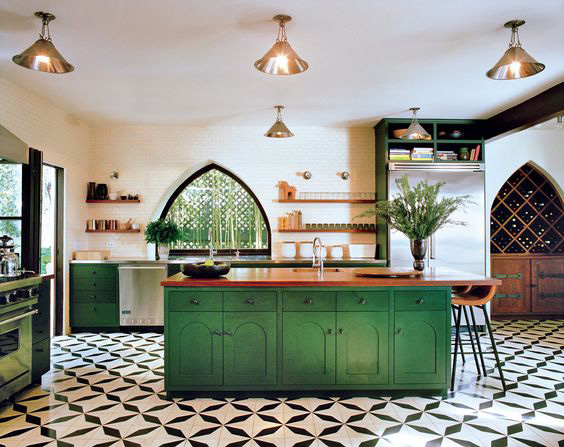 If you are environmentally friendly, you can use green color in your kitchen cabinets. Since green is a color that is identified with nature, you can bring spring air to kitchens with green kitchen cabinets. If you want to create a retro style kitchen, you should use brown with green color. Beside green for modern kitchens, white and beige color accessories will be the right choice.
Yellow
You can create a bright and energetic kitchen environment by using the yellow color of sunshine in your kitchen cabinets. You can create a natural kitchen air by using your yellow kitchen cabinets together with wood or stone textiles.
Red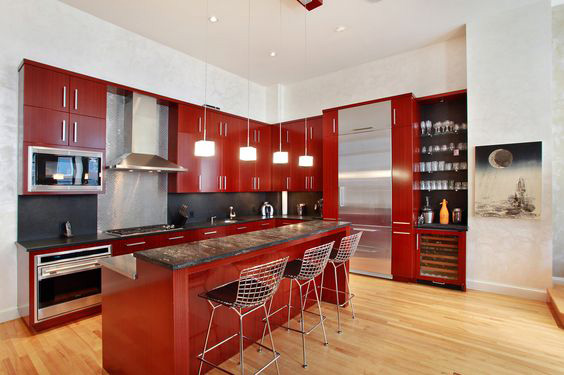 You can design an impressive kitchen using red color, which fits both modern and retro style, in your kitchen cabinets. In accessories and furniture you can achieve balance using black, white and gray. You should keep the kitchen floor in light tones in the face of red color. In this way you will save your kitchen from its dreary and stifling appearance.
Purple
If you want to design an unusual kitchen, the color you are looking for is purple! Purple kitchen cabinets will make your kitchen look out of the ordinary and create a harder and angry decoration. Support the accessories and equipments that you use next to the purple kitchen cabinets by choosing them with the neutral colors black, white and lead colors.